Tired of Reading? Please listen to the blog
Blog Summary
Developments in radiology have transformed the diagnosis and treatment of patients. In 2017 GlobalHealth stated that there are approximately 15,000 radiologists against a population of 1.3 billion in India. With the increasing demand, government and private colleges are offering PG and fellowship programs in radiology. A fellowship offers extensive learning with real-time experience compared to PG programs. Job openings in radiology include radiology technician, radiology assistant, ultrasound technician, etc. It takes seven years of unconventional medical training to become a qualified radiologist in India, with an MBBS followed by PG, diploma, or fellowship degree specializing in radiology. TAU offers a fellowship with a master of medicine in radiology with specialized FRCR training. FRCR training enables you to attempt the RCP exams with ease and confidence.  
---
---
Before taking up a radiology course, understand the radiology better and explore the easiest options to get specialized in the ever-evolving medical industry.
How Critical Is the Role of a Radiologist?
Medical inventions never cease to amaze us with their miracles. Radiology is one such branch of Medicine that has transformed the diagnosis and treatment of patients. The vital information the Radiologists can collect through various tests has phenomenal benefits. It is life-saving in a huge number of instances. Therefore, the job of a Radiologist is very crucial and valued.
Increasing Demand for Radiologists in India
In India, there is an increasing demand for radiologists in both the public and private sectors. The below infographic depicts some of these factors: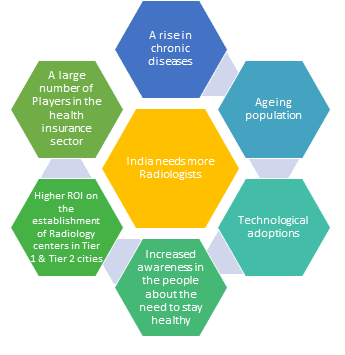 In this 2017 report from Globalhealthi, there are approximately 15,000 radiologists in India currently against a population of 1.3 billion. The same also reports 1 Radiologist for 100,000 population from few regions in India. This is an appalling number compared with 1 for 10,000 in the United States.
Understanding the situation, the Indian government is planning to open more number of medical schools that offer PG courses after MBBS. Also, the conditions are favorable in India for establishing private universities that offer courses, including a fellowship in Radiology.
Courses After MBBS That You Might Want to Consider
If one wants to pursue higher education after MBBS, PG courses are a popular choice. Many governments and private medical colleges in India are offering PG courses after MBBS with specializations.
On the other hand, fellowship after MBBS is gaining wide popularity among medical aspirants in India. They help in equipping the students with advanced skills via extensive training. While PG courses after MBBS awards an academic degree, the fellowship course after MBBS offers you extensive learning with real-time experience.
Radiology is a very popular choice in fellowship after MBBS. After completing the radiology course, the candidate can branch out in interventional or radiation oncology. There is unparalleled demand for both specializations in India and abroad.
Close to 95% Radiologists in India are Diagnostic Radiologists, leaving a very few as specialists. So, here is a chance for you to tap into this requirement and realize your aspirations.
Career Options in India After Completing a Radiology Course
If you are looking forward to a promising medical career, radiology courses in India are one of the top picks.
Radiology careers in India are astounding. There are more than 10 profiles that you can choose from. Some of them are Radiology Technician, Radiology Assistant, Ultrasound Technician, etc. Depending on the place of work and your specialization, radiologist salary in India may vary between 1 lakh and 3 lakhs per month.
Many large players are now looking beyond Tier 1 cities in India. This is surely encouraging Radiologists-cum-entrepreneurs who are seeking support to stand on their own feet.
Securing a seat in any of the PG courses after MBBS may not possible for all aspirants. In that case, one can consider taking up a fellowship that can make their dream come true.
How Long Does It Take to Become a Radiologist in India?
It takes a minimum of 7 years to become a radiologist in India. One must undergo 7 years of conventional medical education and training. It begins with a bachelor's degree focused on physics and biology, like an MBBS and followed by a postgraduate, diploma, or fellowship program with radiology specialization.
If you want to establish yourself as a successful radiologist, there are two skills that you need to master. They are human anatomy and diagnosis skills. Becoming a Fellow of the Royal College of Radiologists (FRCR), UK, adds value and credibility to your profession.
Besides other ways, taking up an FRCR degree would be the best and easiest way to become a Radiologist in India. The Royal College of Radiologists (RCR) conducts a three-step exam. Upon the completion of these three steps, the candidate is inducted as an FRCR.
The three steps are as follows:
Step 1: First FRCR – Two modules: Anatomy
Step 2: Final FRCR Part A – Two MCQ-based written papers
Step 3: Final FRCR Part B – Oral Examination and Rapid Reporting.
It will approximately take 1.5 to 2 years to complete FRCR if you get through all the steps consecutively in a single attempt.
FRCR is one of the radiologist qualifications that is internationally acclaimed and awarded to acknowledge your excellence in radiology. The examination assesses a candidate's skills from multiple perspectives. For many critical and high-paid posts in the UK healthcare system, like Clinical Oncology, clearing FRCR is mandatory.
The FRCR degree is a prestigious accolade that will open new doors for an exciting world of opportunities. The regard for a radiologist with an FRCR degree in India is massive. When you cleared the FRCR exam, you can enjoy:
Immense respect and popularity both professionally and personally,
Recognition for your abundant knowledge and hardship,
Attractive radiologist salary packages and consultant charges that are much higher than your peers without FRCR,
More opportunities in the UK like permission to work in high-pay profiles like a Consultant, and
A career in the UK, Singapore, and the Middle East.
Wondering how to prepare for FRCR? Considering the difficulty level of the FRCR exam, a student might require additional help to clear this exam. It requires intense training and preparation.
Fellowship in Radiology Course with FRCR Training
A fellowship in radiology course is an interesting prospect for an MBBS graduate who wants to become a Radiologist. The fellowship speaks a ton of one's knowledge and clinical expertise in several matters on Radiology.
Texila American University (TAU) offers a Fellowship with a Master of Medicine with FRCR training. This radiology course has been designed to provide students with all the skills to excel as a radiologist. FRCR training from the Royal College certified trainers will help you face the exam with ease.
This fellowship in radiology course is a three-year full-time course. It is designed meticulously by expert academicians and professionals to meet the diverse requirement of our global student community. It is fast becoming the most sought-after fellowship course after MBBS. An interesting inclusion in this program is the training module for the FRCR exam.
The students will study and get trained simultaneously in leading hospitals across India that have tie-ups with TAU. This will ensure to build confidence and skills in students with which they grow ahead in their profession.
There are PG courses available after MBBS based on your interest. A fellowship in radiology course is one among them that is both exciting and fulfilling. The FRCR degree distinguishes your skills from the rest in a commendable way and helps you gain mastery over your skills.
TAU is a distinguished private medical university offering fellowship courses after MBBS, with an international-standard curriculum. By enrolling for this radiology course, you will step into a challenging world of academic and professional training that hones your skills. So, make the right choice and choose the best radiology course.