Tired of Reading? Please listen to the blog
Blog Summary
Endocrinology focuses on the diagnosis and treatment of conditions related to human glands. Endocrine glands secrete hormones that control a wide range of physiological activities of the body like temperature, sleep, mood, stress, growth, etc. It is a thriving medical specialty in India with career growth in academics, hospitals, public and private sectors. Endocrinology is diverse field subspecialties that include diabetes and metabolism, nuclear medicine, neurosurgical endocrinology, reproductive endocrinology, pediatric and thyroid disease. It also involves the treatment of diseases like snakebite pituitary dysfunction, Sheehan's syndrome, severe rickets and osteomalacia, malnutrition-related diabetes, etc. TAUs fellowship program in endocrinology is offered in partnership with UCN, its the best PG course that permits you to continue clinical commitments along with the specialization studies.  
---
---
Endocrinology is a branch of medicine. It focuses on the diagnosis and treatment of diseases that disturb human glands. Hormones are secreted from endocrine glands and control a wide range of physiological activities of the body.
Endocrinology is a thriving medical specialty in India that is growing at a rapid pace. Endocrine consultants have the scope of growth in teaching and non-teaching hospitals, in both public and private sectors all over India.
The high rise in endocrine diseases such as diabetes and goiter has offered a vast field for medical practitioners. The Endocrine Society of India has made noteworthy contributions in endocrine research and public health, specifically in goiter and diabetes reduction. This certainly reflects a bright future opportunity for Indian endocrinologists.
What Can You Do with Endocrinology?
An endocrine specialist diagnoses and treats problems with the human endocrine system. The endocrine physician cures hormone imbalance, diseases, and hormonal disorders. The hormone is a chemical messenger secreted from the glands, mixed with blood and controls the functions of several parts of the body. The endocrine system secretes hormones that regulate the various physiological activities of the body, such as temperature, sleep, mood, stress, growth, etc.
The entire field of endocrine study is subdivided into specific areas in relation to hormone secretion. For example:
Pediatric endocrinologists treat hormones in children.
Thyroid endocrinologists diagnose the effect of thyroid on body metabolism.
Endocrinology is a vast and diversified field, subspecialties and includes diabetes and metabolism, endocrinology nuclear medicine, neurosurgical endocrinology, reproductive endocrinology, and thyroid disease. As the study applies to vast fields, it has immense scope.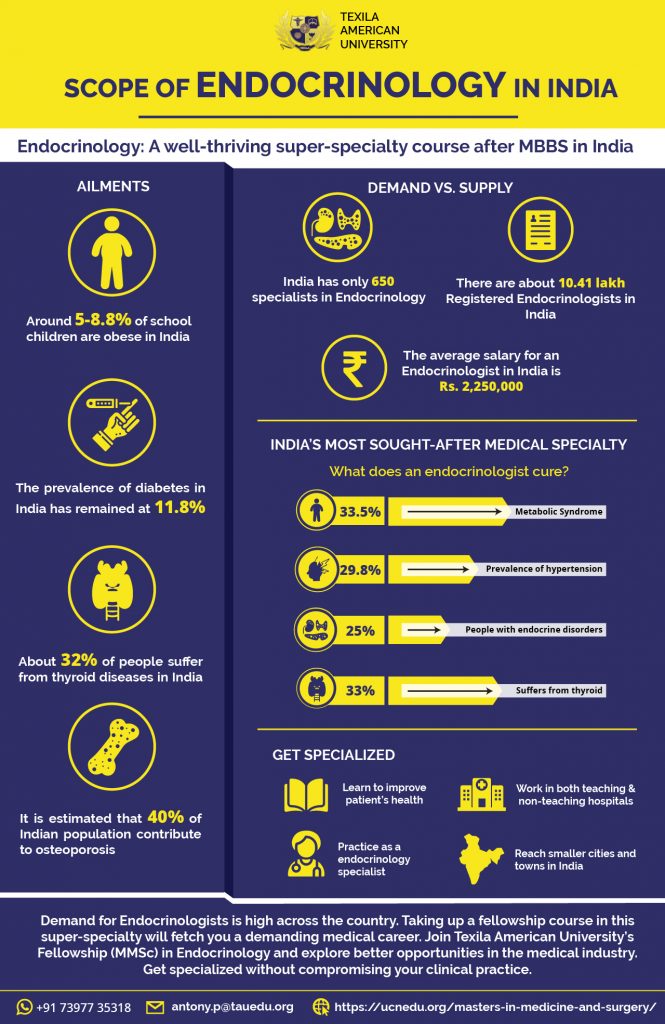 The Rise in the Endocrine Diseases in India
Diseases like diabetes, obesity, hypothyroidism, and polycystic ovary syndrome are affecting a large population of the country. India records at second position with 77 million diabetic patients. Endocrinologists treat endocrine and metabolic diseases. In India, apart from endocrine diseases, endocrinologists also treat unique diseases such as:
snakebite pituitary dysfunction,
Sheehan's syndrome,
severe rickets and osteomalacia,
malnutrition-related diabetes,
iatrogenic Cushing's syndrome, and
infectious Addison's disease.
The lifestyles in developing countries like India have a proliferation of endocrinological problems and can be a rise in the future. Infertility in men and women in the present society is another big challenge for the endocrinologist to fight. Above all, the females that amount to half of the population of the country are always in need of hormone physicians. Hence, endocrinology specialists will have a high demand in the future in India when they pursue a specialty course after MBBS.
Pay Scale of Average Endocrinologist in India
The pay scale of an average endocrinologist is ₹2,250,000 based on 8 salaries. (Inclusive of bonus and overtime) and can vary from ₹391k–₹5m. The initial years, that is, 1–4 years, have a little low wage that can see a drastic rise with an experience of 5–9 years.
It is evident that endocrinology would be the best PG course after MBBS. The postgraduate seats for specialists are limited in India.
Proven Shortage of Endocrine Specialists in India
There is a large gap between the demand and the supply of specialist doctors in endocrine diseases. There are just 650 endocrinologists to treat nearly 28,000 patients.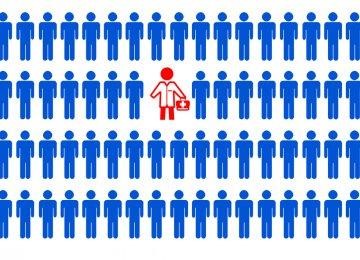 According to the World Health Organization, there should be at least 1 physician serving 1000 people. But in India, there is a shortage of doctors, and the ratio is 1:1456, which is much lower than the set standard. And endocrinologist specialists are even lesser, which is a concern.
The United Nations states that declining fertility rates and desperate couples are a booming problem for India. Nearly 27.5 million couples are having the problem of infertility. With the increase in diabetes and fertility issues, the demand for the endocrinologist will always remain high in India, which will require specialty courses after MBBS. The data implies that it will be the best PG course after MBBS.
An Overview of Latest Trends in Endocrinology
The present trend in endocrinology covers both clinical and research aspects of the field in various topics. Most advanced technological developments are seen in molecular biology. Commissioned clinicians and researchers report on advancements in:
reproductive endocrinology,
developmental endocrinology,
metabolism,
biochemistry,
diabetes and insulin action,
thyroid hormone action,
obesity,
neuroendocrinology,
molecular and cellular biology, and
a host of other areas.
Research is conducted on topics such as:
sleeplessness,
how obesity would affect human growth hormone,
low inflammation and metabolic health,
obese mothers producing offspring with increased mortality, and
cardiovascular problems.
Hence, endocrinology is definitely on a development drive with immense opportunities for growth, considering it to be one of the best PG courses after MBBS!
Fellowship MMSc Program at Texila American University
In an academic partnership with the University of Central Nicaragua (UCN), Texila American University (TAU) offers a unique MMSc fellowship program. It allows medical students to expand their professional prospects and pursue additional certification to enhance their professional proficiency in specialty courses after MBBS. The best PG course after MBBS permits the physicians to continue clinical commitments along with the specialization studies in their preferred stream.
The degree is a specialty course after MBBS. TAU offers it online for the benefit of doctors who desire to pursue a program in endocrine studies as specialty courses after MBBS. It will add up to the knowledge as well as certification and continue the routine practice.
The online program also facilitates the physician to take up the sessions as per the convenience of timing and place. The physician with a little more dedication and exertion can obtain a specialty degree with ease.
Why Should You Choose TAU to Get Specialized in Endocrinology?
Get specialized in endocrinology without compromising your medical practice.
Course materials will be delivered through our user-friendly LMS.
It enables you to advance your career in the UK, the Middle East, Africa, or Asia.
Structured training through clinical course work, tests, and research
International faculty and resources
Tailored, international standard curriculum
BLOCK-based learning and continuous assessment pattern
Outcome-based academic delivery
The program facilitates the medical students to study with the flexibility and support to study at any convenient time and place to suit the work schedule. The program makes available a platform for research scholars to study using the advanced learning system.
Other Specializations Available Under This MMSc Fellowship Program
Critical Care
Endocrinology
Diabetology
Family Medicine
Global Health, HIV Medicine, and Infectious disease
Preventive Cardiology
Oncology
Nuclear Medicine
Cosmetology
Reproductive Health
TAU adapts block-based learning patterns with submissions of case reports and continuous assessment by the faculty members through personalized communication. The studies can be implemented without disturbing the routine clinical practice. An online repository of learning materials would be made available.
The students are additionally provided with the opportunity to attend CME programs to gain more credits. There is a continuous interaction between the student and the faculty, which increases the work-integrated learning opportunities. Guidance and supervision are offered in context to the specified projects and thesis. TAU provides a complete well organized, planned, and executed program with thorough support and guidance. The best part of the program is that a medical student can achieve a specialty degree without leaving the present job and commitments. The fellowship MMSc program forms part of an extensive qualification pathway and is responsible for professional progress prospects for professionals looking for an enhanced future in respective professions.