An Overview of Clinical Research
Clinical research is a subdivision of healthcare science that involves conducting lab research on the health of humans and their illnesses. This research is conducted to study the reaction of certain medications for the disease. It helps in the development in the field of medicines and health services. This research is conducted keeping in mind a specific set of questions. The research output should identify whether the medication is compatible with the human body and is effective on the diseases.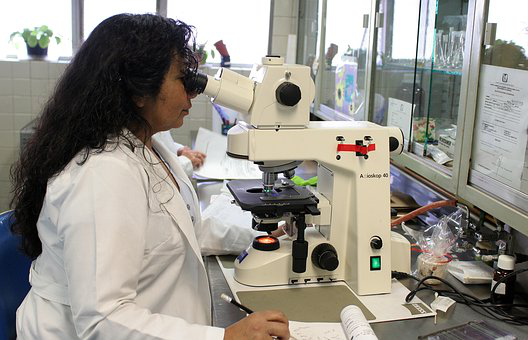 Clinical research also includes the study of new treatments and experiments on the human body. There are two types of clinical studies:
Observational Studies: This helps to understand the disease pattern and its causes.
Interventional Studies: It involves testing the efficiency of new drugs and the safety of its use. Clinical researches are scientific analyses of the risks and benefits of medicine and its impact on the human body. Clinical research involves conducting trials on the human body before the medicines hit the shelves. It also monitors the effect of medication on a larger pool of patients once the medicine hits the market.
An individual with a bachelor's degree in biology, life sciences, or medicine has a greater career opportunity in the field.
Growth and Demand for Clinical Research
According to recent research, there is a 150% rise in the number of clinical researches conducted since 2010. This proves that clinical research is a trending career option. The pharmaceutical, biotechnology, and medical companies are growing at a fast pace. The increasing concern for the safety and value of human life enforces these clinical researches to ensure effectiveness and safety.
The clinical research industry is a billion-dollar industry that is demanding more and more qualified professionals.
There are almost 2,10,000 qualified clinical researchers in the USA and about 70,000 in the UK. There are over 2,50,000 clinical researcher posts vacant globally.
These statistics are evidence of the fact that a career in clinical research is very lucrative and prestigious.
How to Become a Clinical Research Professional
Association of Clinical Research Professionals provides certification exams to qualify and practice as a certified clinical research associate.
A life science or medical degree is the strongest degree for a person to become a clinical research associate. Or a degree in anatomy, biology, biochemistry, chemistry, microbiology, toxicology, pharmacology, immunology, or physiology.
Besides the above-mentioned educational degrees, you should also meet the following criteria:
Prior Experience: A valid experience certificate is required from an institution where you have volunteered yourself in clinical researches.
Finding Renowned Organization: Studying in a reputed organization is key to get better exposure and easy employment.
Online Courses: Taking a few related courses online is required to gain basic knowledge of clinical research associates. This gives you access to many entry-level positions in this field.
Career Opportunities in Clinical Research
The need for clinical research associates is growing. Most of the patients' life directly or indirectly depend on the clinical trials that a clinical research associate conducts. They observe the effects and side effects of medicines. They also analyze the data collected from such results. Therefore, it is safe to say that they are the most responsible professionals out there. As discussed above, anyone with a degree in life science, biology, or pharmaceutical can have a career in clinical research. The career options are divided according to the professions:
a. Doctors: A doctor can become a principal investigator, co-investigator, medical advisor, drug manager, or clinical research physician.
b. Paramedics, Pharmacists, and Life Science Graduates: These graduates can become
drug testers, developers, reviewers, or safety managers;
clinical coordinators or research managers, or
medical writers.
c. Management Professionals: A management professional can become a clinical project manager, clinical research manager, regulatory affair, and many more.
d. Clinical Research Investigators: Such individuals can conduct studies, writing/revising Standard Operating Procedures, and so on.
e. Study Coordinator: This person has to provide adequate safety and protection while collecting and managing study data.
f. Data Manager/Biostatistician: These people are responsible for predicting the seriousness of diseases and the effectiveness of the medication. They also help in collecting data, implementing appropriate methodologies, and interpreting the results.
g. Regulatory Affairs Managers: Their duty is about reviewing and registration of documents, studying technical data, and liaison with regulatory authorities.
h. Clinical Trial Auditors: They have to ensure that the standard procedures are followed while conducting the clinical trials.
i. Clinical Research Managers: They manage and supervise the clinical research staff. They also make the budget for clinical trials and protocols to conduct the studies.
j. Business Development Manager: These people bring in new investors and foster new business relationships. They are also responsible for market research.
k. Drug Safety Associates: They are accountable for maintaining a database for global drug safety regulations. They have to compile the clinical safety data also.
l. Medical Writer, Clinical Data Manager, and Others: A medical writer has to document the research, compile manuscripts, etc. A clinical data manager's responsibility is to simplify the data and make it presentable. Other fields contain the auditors, IPR attorneys, and many more.
Types of Clinical Research Jobs
Clinical trials are the need of the hour in drugs and pharmaceutical companies. These companies are conducting trials on human beings and medicines extensively. Effective trials result in better knowledge of many diseases. Apart from these, there are many hospitals that need clinical researchers which help them gather knowledge of the quality drugs. It is for the assistance of these companies and hospitals that the posts of clinical researchers were created. There are mainly three fields in which there is a huge demand for clinical research associates:
a. Clinical Research Organizations (CROs) in Pharma/Biotech Industry need:
Clinical Trial Assistant (CTA),
Clinical Research Associate (CRA),
Senior CRA, Clinical Team Leader,
Project Manager,
Senior Project Manager,
Manager Medical and Regulatory,
Manager–Safety/Patents,
Manager Quality Assurance,
Medical Director,
Associate Director–Clinical,
Associate Director–Projects,
Director–Business Development,
Director/Head (Clinical Operations),
General Manager/CEO/President, and so on.
b. Site Management Organizations (SMOs) need:
Clinical Research Coordinators (CRC)/Study Coordinators,
Principal Investigators/Co-Investigators,
Medical Monitors,
Project Manager/Senior Project Manager,
Manager Medical and Regulatory,
Manager Quality Assurance,
Manager–Business Development,
Medical Director, and so on.
c. Data Management needs
Data Entry Operators,
Data Validation Executives,
QA Executives,
Data Managers,
QA Managers,
Statistical Programmers,
Statisticians,
Data Reviewer,
Database Designer, and so on.
Career Prospects and Salary Range
As we listed above, a clinical research associate has career prospects at multiple levels in an organization. These positions are available on the basis of the experience of an applicant. Freshers can start their carrier as clinical research administrators and then upgrade yourself to other higher and more responsible positions.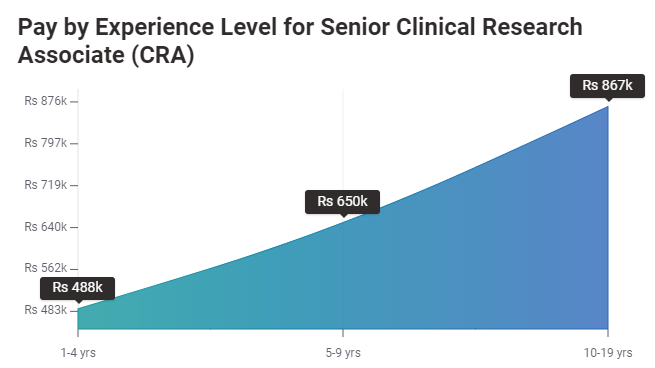 According to PayScale, a senior clinical research associate gets ~Rs. 600,000/annum as salary in India.
The high salary of clinical research proves that there is a dearth of them. Besides, this profession is respected a lot and that it is smart to choose clinical research as a career.
How Texila's PhD in Clinical Research Program Will Help You in Your Career?
Texila American University is a leading organization in medical education. They have a global presence with facilities across 6 countries and are a pioneer in producing thinkers and researchers. They take in over 700 students from across the globe for various courses that include PhD in Clinical Research. Texila combines theoretical and practical training while developing a study program that caters to the need and availability of students. The students can access the study material from anywhere and at any time. Students develop decision-making skills which help immensely in the clinical research field. They are also given practical knowledge to conduct clinical trials, pharmacology, pharmaceutics, biostatistics, research methodology, and pharmacy vigilance.
Texila follows the BRICS model to educate their students. This involves discussions, project work, case studies, article reviews, and contextual project work.
Texila's study material is accessible to all students online at all times. The curriculum is curated according to international standards, and they house the best faculties from around the globe. Texila has collaborated with the University of Central Nicaragua which focuses on better research methodology. Texila is one of the best universities for students who want to grow in their careers. Texila has an excellent management team that supports students day in, day out. This helps students get access to anything ranging from the study material to the faculties. For those who want to pursue a PhD in Clinical Research, Texila American University would be the best option.